Thank you for joining us on our Bird Walks at the Ford House
Due to COVID-19, all events at the Ford House have been cancelled until further notice.
We hope you're still getting outside to enjoy the birds. In the meantime, please enjoy reading our collection of bird walk summaries from past walks.
(
click here
for directions to the Ford House where walks are held).
Scroll down to review our most recent bird walk summaries, then scroll to the bottom of this page for an archive of past bird walks.
Bird Walk Summary for February 29th, 2020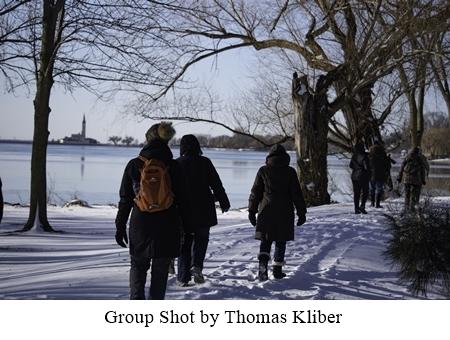 What an absolutely gorgeous day it was for a Bird Walk at the Edsel & Eleanor Ford House. Despite cold temperatures, the sun was shining brightly and the sky was a lovely color of blue. Everyone was in a great mood to get outside and see what birds awaited us.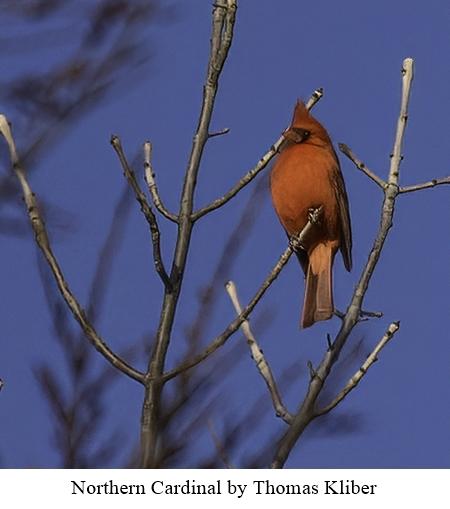 We started off with excellent views of a Red-bellied Woodpecker that was advertising his nesting cavity to any female takers. He kept repeating that brisk call "brrrrr, brrrrr". In full view, he was a spectacular specimen for his species. A pair of Cardinals were flitting about around him. There was Cardinal song from at least three places on the grounds, such an uplifting sound to hear on this last day of February. We talked about the fact that birds start to sing in response to daylight hours, and not in response to temperature (click here for more info).
When we arrived at the cove, we could see a large group of Canvasback Ducks as we peered under the bridge that spans the water over to Bird Island. They all had their heads tucked, perhaps heating up in the morning sun before heading out to breakfast. Lake St. Clair is one of their prime wintering grounds.
As we scanned the cove behind them, we spotted a Great Black-backed Gull, quite impressive in size and another beautiful specimen. Great views of the beak color in the bright sun, this bird was a life look for many and a First of Year bird for other experienced birders. First of Year birds are your first look at that species in a calendar year.
When we came to the end of the cove and had a chance to look out onto the open waters of Lake St. Clair, we were treated to the mating gyrations of Common Goldeneye, thrusting their head back and then forward to impress the females. A group of Buffleheads was present, one male with six females, leaving us to hypothesize on how he got so lucky.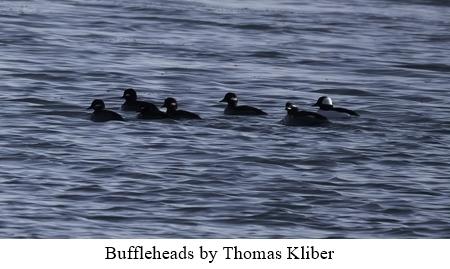 Having a telescope is always a bonus, and we appreciate Jim carrying the scope and getting our target birds in view for us. Today the scope proved to be very handy indeed as it helped us to confirm not one, but two Glaucous Gulls sitting far away from shore on the ice. The size comparison is so easy to see when comparing those gulls to the Ring-billed Gulls that were flying about.
In front of the house we were able to witness the dear little antics of the Black-capped Chickadees as they chased each other about, most likely sorting out who was going to pair up with whom. Their sweet song rang through the quiet air – "Hey, Sweetie". A White-breasted Nuthatch showed off his talented feeding style as he inched his way along the vines on the house as well as on the pine boughs closer to the lake shore.
Red-winged Blackbirds were back, announcing their presence with song. A hardy Song Sparrow was found near the water's edge – perhaps a winter hold over, hoping to get first dibs on the best territory? He wasn't singing; rather, we heard his constant call note, sounding to me like he is saying "chimp, chimp".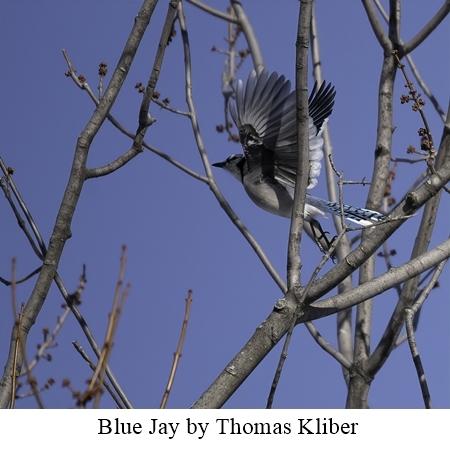 Seeing Crows is not a common sight on our walks, so we were very appreciative of the three that flew over against the back drop of the clear, blue sky. Blue Jays were common all over the grounds, travelling in twos and threes as they dazzled us with their shape and color. In the garden area, we had a lot of fun watching a female Hairy Woodpecker excavating for larva in the branch of a tree, chips of wood falling to the ground around us. She worked for a solid ten minutes and providing us with great views in which to see the length of the bill that tells her apart from the small, similar species – Downy Woodpecker. We were also able to see her outer tail feathers which are absent of the small black dots that are an indication for Downy.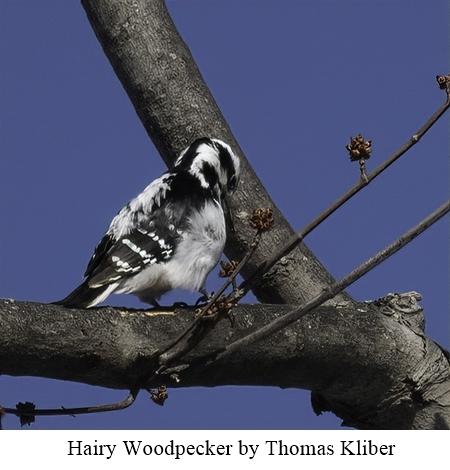 As we headed back to tally up our species for the walk, we heard a loud "peer, peer". No mistaking that song as a Tufted Titmouse sat out in plain view for us to watch him claiming his space. It was an outstanding view with his throat feathers flared out with each song. We added on a final species after we had tallied, a House Finch that was singing above us as we walked towards our vehicles.
Beautiful sun, smiling birders, the air filled with bird song – it doesn't get much better than this for Bringing People & Nature Together!
Many thanks to Bill Rapai and Jim Szelc for their camaraderie and birding skills as we led this group along. As a special bonus, one of our participants, Thomas Kliber, captured great photographic images of the birds that we saw.
Enjoy your birds!
Rosann Kovalcik, Owner
Wild Birds Unlimited, Grosse Pointe Woods
Birds Species Seen February 29th, 2020 - 27 Species
Canada Goose
Mallard
Canvasback
Greater Scaup
Bufflehead
Common Goldeneye
Common Merganser
Mourning Dove
Ring-billed Gull
Herring Gull
Glaucous Gull
Great Black-backed Gull
Cooper's Hawk
Red-bellied Woodpecker
Downy Woodpecker
Hairy Woodpecker
Blue Jay
American Crow
Black-capped Chickadee
Tufted Titmouse
White-breasted Nuthatch
European Starling
Song Sparrow
Northern Cardinal
Red-winged Blackbird
American Goldfinch
House Sparrow
Bird Walk Summary Archive
Bird Walk from November 2nd, 2019
Bird Walk from October 12th, 2019
Bird Walk from September 14th, 2019
Bird Walk from August 24th, 2019
Bird Walk from April 13th, 2019
Bird Walk from March 23rd, 2019
Bird Walk from February 23rd, 2019
Bird Walk from January 26th, 2019
Bird Walk from November 17th, 2018
Bird Walk from October 27th, 2018
Bird Walk from September 29th, 2018
Bird Walk from August 25th, 2018
Bird Walk from April 21st, 2018
Bird Walk from March 17th, 2018
Bird Walk from November 18th, 2017
Bird Walk from October 28th, 2017
Bird Walk from September 23rd, 2017
Bird Walk from April 8th, 2017
Bird Walk from March 18th, 2017
Bird Walk from February 11th, 2017
Bird Walk from November 12th, 2016
Bird Walk from October 22nd, 2016
Bird Walk from September 24th, 2016
Bird Walk from August 27th, 2016