Thank you for joining us on our Bird Walks at the Ford House!
NEW DATES SET FOR 2019!*
Saturday, January 26th, 2019 at 8:00am
Saturday, February 23rd, 2019 at 8:00am
Saturday, March 23rd, 2019 at 8:00am
*Tickets not yet available. Please check back!
(click here for directions to the Ford House where walks are held).
Scroll down to the bottom of this page for an archive of past bird walks.
Bird Walk Summary for November 17th, 2018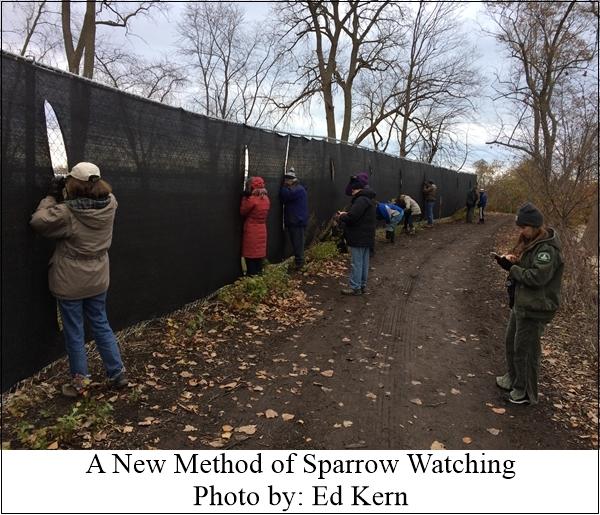 A note from Rosann Kovalcik: The last bird walk of the year was a testimony to team work. In my absence, the group was fortunate to have the leadership skills and enthusiasm of Bill Rapai, my usual co-leader. Jim Szelc was consistent as our telescope aficionado as well as offering his skills as observer to help participants. I was also fortunate to have Andrea Rose Meldrum, my employee and bird-loving enthusiast, to lend her leadership skills and camera work. Please read on for Andrea's excellent writing about the bird walk at the Edsel & Eleanor Ford House.
We could not have imagined a more perfect morning for our last Ford House Bird Walk of the season. The weather and the bird activity were equally favorable, with temps warmer than usual and winds nearly nonexistent (even along the lake). Throughout the morning, there was a myriad of unseasonably unexpected surprises. It seemed Mother Nature had given us a gift, a morning where we could forget about the impending cold. This theme of flourishing life left us feeling warm and grateful, as we connected through our shared love of nature.
One of the first birds we saw was a reminder of warmer days. A late Eastern Phoebe was flitting around the parking lot, bobbing its tail while perched on exposed branches, waiting for insects to eat. Yes, there were insects in the air! We even encountered a patch of mosquitoes, which took us by surprise and made it feel more like early fall or late summer.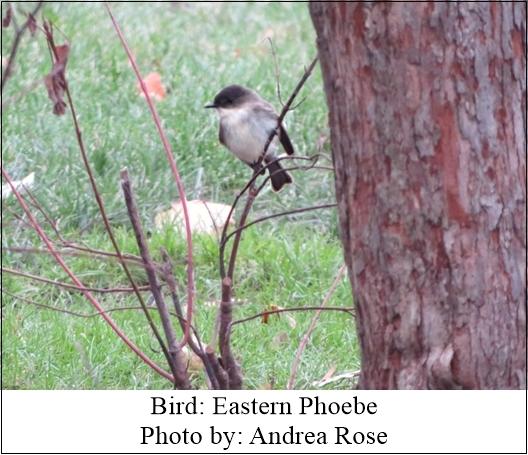 The surprises continued as we approached Bird Island. A quick flash of movement in the water revealed either a muskrat or a beaver, swimming in the bay. A bit further up, a turtle was sitting out on the rocks, perhaps wanting to stay awake just a few days more before beginning its hibernation. We scanned the lake for ducks and other waterfowl, and found a good mix of new migrants, including Bufflehead Ducks, Greater Scaup and a lone female Goldeneye.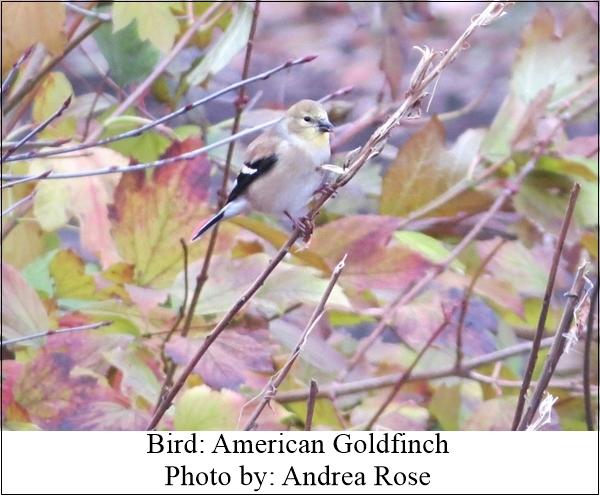 Later, as we approached the Rose Garden, the surprises continued! A small, energetic bird caught the sights of Ed Kern, who alerted the group to this movement. Upon inspection through our cameras and binoculars, it was evident this was a bird that should have migrated south by now. The constant movement, small size, and dull fall coloration made ID difficult at first, but the species was narrowed down to a few options, upon which Philadelphia Vireo was eventually decided. Bird watching is such an amazing thing - you truly never know what to expect! The star of the day is pictured below - we hope it reaches its southern destination safely (and soon)!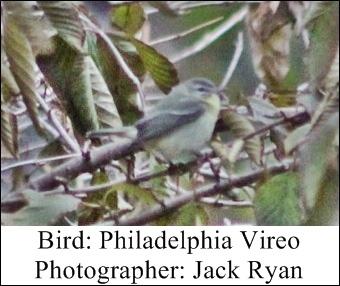 Throughout the rest of the walk, we encountered many of the usual suspects - nuthatches and chickadees, finches and sparrows, and a few Brown Creepers moving along the tree trunks and the concrete walls. Can you spot the one in the photo below?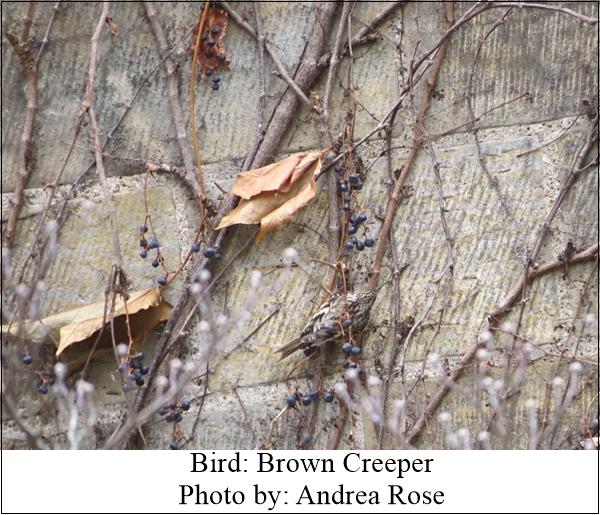 We truly appreciate all who attend and help with these walks, celebrating nature with us. We hope you can take what you learned and continue to expand your bird knowledge throughout your everyday life. Don't be afraid to bundle up and spend some time outside this winter, as well as enjoy the birds you see from the comfort of your home. Have a wonderful holiday season and we'll see you for more walks in 2019!
Thanks for helping us bring people and nature together. Enjoy your birds!
Love,
Andrea Rose
Wild Birds Unlimited, Grosse Pointe Woods
Bird Species Seen November 17th, 2018 - 36 Species
Double-crested Cormorant
Great Blue Heron
Canada Goose
Mute Swan
Mallard
Greater Scaup
Bufflehead
Common Goldeneye
Ring-billed Gull
Herring Gull
Mourning Dove
Belted Kingfisher
Red-bellied Woodpecker
Downy Woodpecker
Eastern Phoebe
Philadelphia Vireo
Blue Jay
American Crow
Black-capped Chickadee
Tufted Titmouse
White-breasted Nuthatch
Brown Creeper
Golden-crowned Kinglet
Ruby-crowned Kinglet
American Robin
European Starling
American Tree Sparrow
Song Sparrow
Swamp Sparrow
White-throated Sparrow
Dark-eyed Junco
Northern Cardinal
House Finch
Pine Siskin
American Goldfinch
House Sparrow
Bird Walk Summary Archive
Bird Walk from October 27th, 2019
Bird Walk from September 29th, 2018
Bird Walk from August 25th, 2018
Bird Walk from April 21st, 2018
Bird Walk from March 17th, 2018
Bird Walk from November 18th, 2017
Bird Walk from October 28th, 2017
Bird Walk from September 23rd, 2017
Bird Walk from April 8th, 2017
Bird Walk from March 18th, 2017
Bird Walk from February 11th, 2017
Bird Walk from November 12th, 2016
Bird Walk from October 22nd, 2016
Bird Walk from September 24th, 2016