Thank you for a successful week of May bird walks - photos and recaps to follow!
Stay tuned for new bird walk dates - TBD (click here for directions to the Ford House where walks are held).
Scroll down to the bottom of this page for an archive of past bird walks.
Bird Walk Summary for April 21st, 2018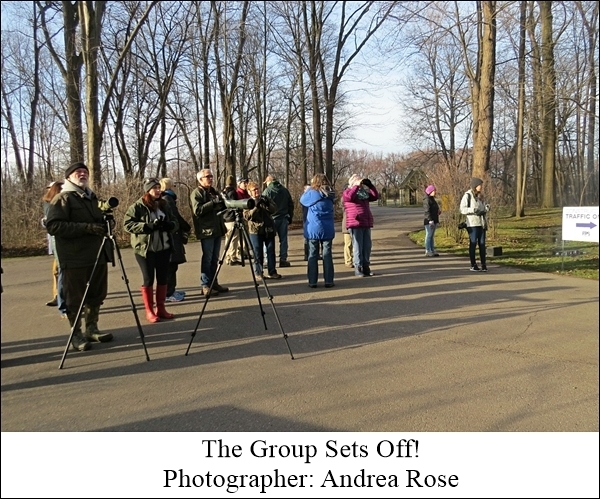 It was the quintessential spring migration day – warmer temperatures, a good showing on the radar screen of a migrant bird "cloud" and a happy group of birders. Some of the birders were seasoned veterans to the Edsel & Eleanor Ford House bird walks, some were with us for the first time and, for the first time ever birding as well!
Those first-time birders can make all of the difference in our walk, as we want to make sure every beginner comes away with a deeper appreciation for the fascinating world of birds. Before we even began to walk away from the gathering place, our attention turned to the trees and the sky. The Blue Jays were busy in many of the trees around the parking lot area and an occasional Common Loon flew overhead, very distinctive in shape and speed. Just next to us in the shrubs we had a very close view of a White-throated Sparrow eating seeds on the ground and occasionally giving a shortened version of its song.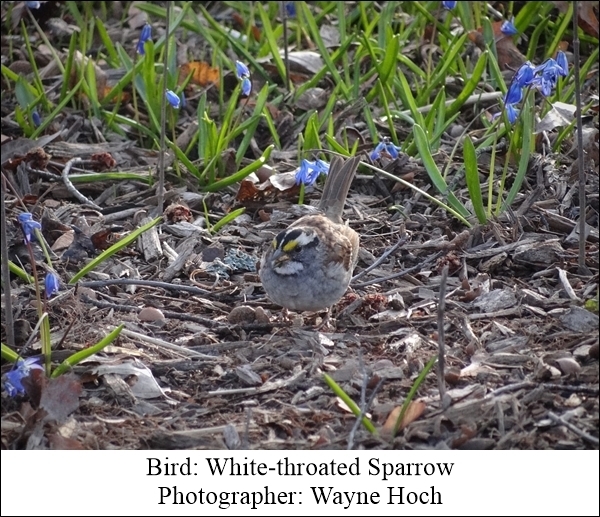 Closer to the wooded area near the road, another very loud bird song captured our attention. Both of us leaders felt unsure which bird was responsible for the unidentified song. Bill theorized Hermit Thrush, which we were seeing along the road and in the understory of the woods on each side of the road. There were also Dark-eyed Juncos and Fox Sparrows feeding in the leaf litter, a testimony to the bounty of insects underneath.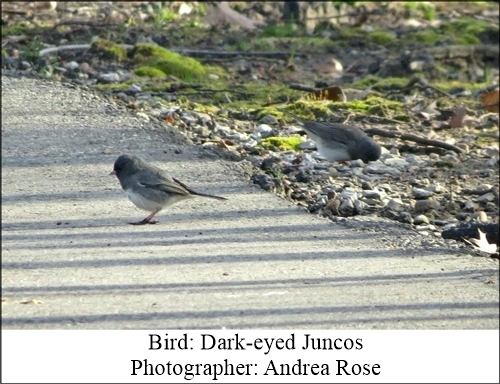 The cove was a productive spot, with small groupings of Horned Grebes, Pied-billed Grebes and Lesser Scaup. We were fortunate to have the sun shining so the rufous neck and golden head tufts of the Horned Grebes glowed beautifully. A female Belted Kingfisher sat for the longest time on a branch across the cove, allowing for excellent scope views. A few lucky people had a glimpse of a Common Loon out in the lake at the entrance to the cove. All of us were able to watch the Barn Swallows flying overhead, their signature forked tails quite noticeable. A pair of Canada Geese had some young goslings swimming between them, a hopeful reminder of spring.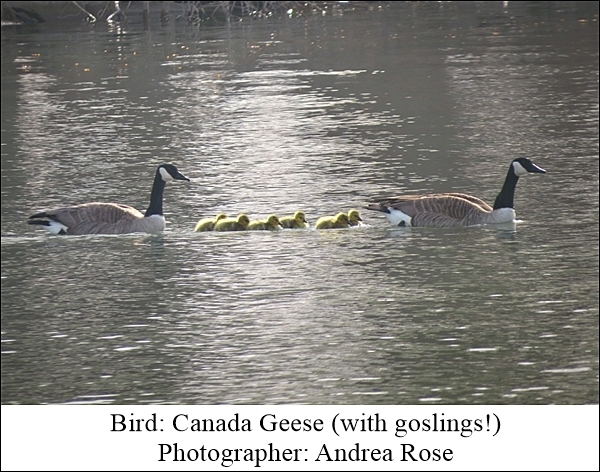 The trees above us were ornamented with Golden-crowned Kinglets and to a lesser degree, Ruby-crowned Kinglets. We also had some opportune close-ups of Brown Creepers, allowing us to note the counter-shading of their plumage, as well as the manner in which they move, giving credence to their name. Bill took some amazing photos of these sickle-billed birds. One of these images shows the flexibility of the bird's hind toe. This particular bird was splaying that toe out at a 90 degree angle! No wonder Brown Creepers can move up and down the trunk of the tree so easily.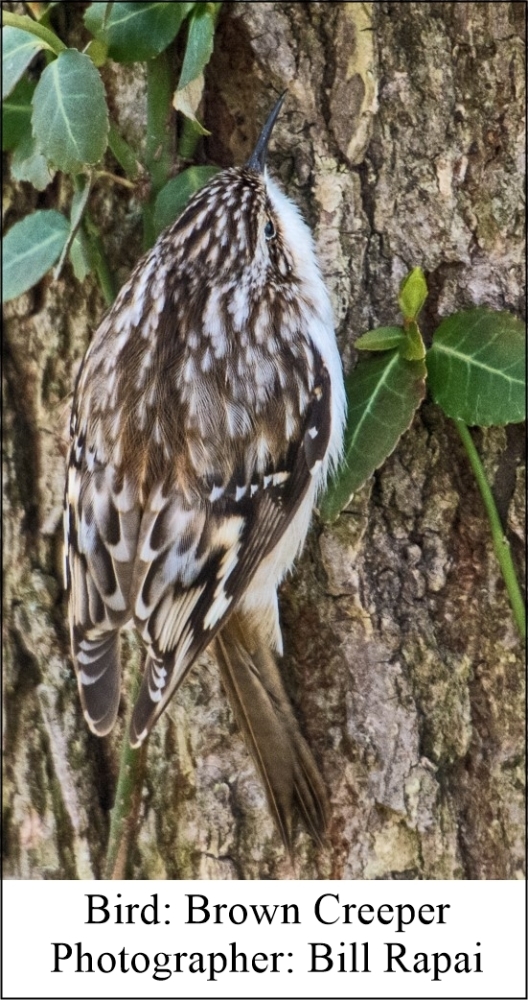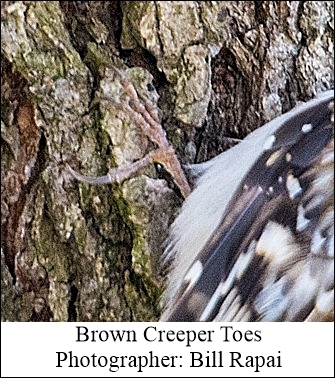 Red-winged Blackbirds called from all over the grounds, as many more of their brethren flew overhead. Eastern Phoebes had also arrived from their southern wintering territories. We watched their characteristic way of feeding – perched in one spot, watching for an insect to fly by, then flying out for the mid-air catch.
Caspian Terns and Forster's Terns were also added to the list of newly arrived migrants. I found pleasure in explaining the differences between terns and gulls to those participants who were new to birding.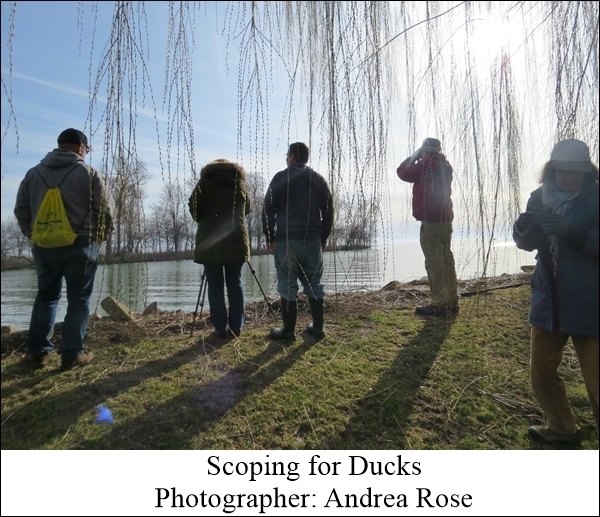 Many of the woodpeckers were drumming, their "songs" punctuating the morning air. This provided another great opportunity to explain to the newer birders the fact that woodpeckers drum in the place of song. Then there was the sound of the Northern Flicker – the largest woodpecker of our walk – its long and wild notes reminding us all of background sounds from jungle movies.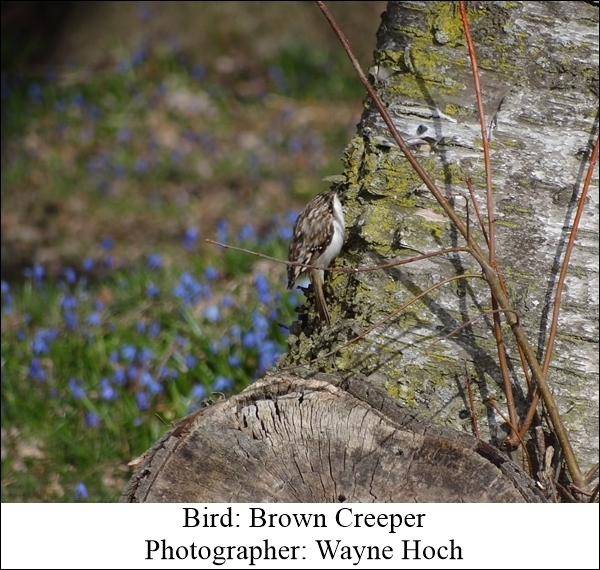 Many other bird songs provided for a pleasant morning – American Goldfinches sang sweetly as Northern Cardinals made their presence known too. The aptly named Song Sparrow males were also singing in a few different spots. We commented on the fact that birding adventures are not about seeing only – they are an auditory experience, especially during spring.
What a beautiful experience it was to walk around the grounds and help birders see the wonders of early spring migrants – a great way to Bring People & Nature Together. Many thanks to Bill Rapai, a deeply appreciated co-leader, and Jim Szelc and Andrea Rose, deeply appreciated as well for not only finding birds but carrying scopes for closer views of the birds.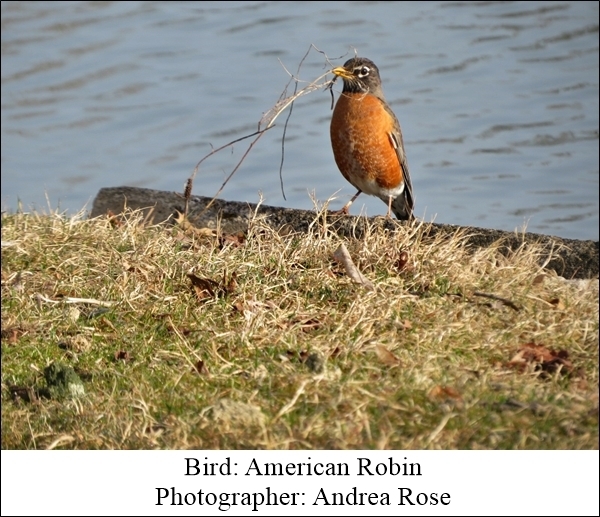 And of course, right after I pulled out of the Edsel & Eleanor Ford House – I remembered that song that had eluded us n the morning – Fox Sparrow! It is a very lucky person who gets to hear them in migration – they are here for so short of a period of time and not always vocal.
Enjoy your birds!
Rosann Kovalcik, Owner
Wild Birds Unlimited,
Grosse Pointe Woods
Bird Species Seen April 21st, 2018 - 46 Species
Common Loon
Pied-billed Grebe
Horned Grebe
Double-crested Cormorant
Canada Goose
Mallard
Greater Scaup
Lesser Scaup
Bufflehead
Common Merganser
Red-breasted Merganser
Ring-billed Gull
Herring Gull
Forster's Tern
Mourning Dove
Rock Dove
Belted Kingfisher
Red-bellied Woodpecker
Downy Woodpecker
Northern Flicker
Eastern Phoebe
Blue Jay
Tree Swallow
Barn Swallow
Black-capped Chickadee
Tufted Titmouse
White-breasted Nuthatch
Brown Creeper
Golden-crowned Kinglet
Ruby-crowned Kinglet
Hermit Thrush
American Robin
Brown Thrasher
European Starling
Yellow-rumped Warbler
Fox Sparrow
Song Sparrow
White-throated Sparrow
Dark-eyed Junco
Northern Cardinal
Brown-headed Cowbird
Red-winged Blackbird
Common Grackle
House Finch
American Goldfinch
House Sparrow
Bird Walk Summary Archive
Bird Walk from March 17th, 2018
Bird Walk from November 18th, 2017
Bird Walk from October 28th, 2017
Bird Walk from September 23rd, 2017
Bird Walk from April 8th, 2017
Bird Walk from March 18th, 2017
Bird Walk from February 11th, 2017
Bird Walk from November 12th, 2016
Bird Walk from October 22nd, 2016
Bird Walk from September 24th, 2016