Daily Savings Club: The Next Great Thing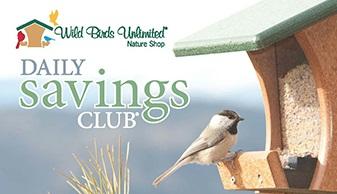 Join the group - we have over 1,000 Members in our Daily Savings Club®. Being a member of the Club allows you to save every day on the best bird food in town.
For an annual membership fee of $25, you'll receive:
A FREE GIFT for signing up
15% off all bird food prices every day
5% off sale prices of bird food
Monthly members-only deals
$10 Bird Bucks for every 200 points accrued in the store (every dollar spent = 1 point)
As prices rise around us all, you're guaranteed to get the best price on the best bird food in town - every day.
Stop by the store this month for all of your nature needs and be sure to ask us about joining the Daily Savings Club. Your birds will thank you.