Grosse Pointe Woods, Michigan
20381 Mack Avenue
Grosse Pointe Woods, MI 48236
6 Blocks South of Vernier

(313) 881-1410
Open Today Until 6:00 pm
| | |
| --- | --- |
| Monday | 10:00 am - 6:00 pm |
| Tuesday | 10:00 am - 6:00 pm |
| Wednesday | 10:00 am - 6:00 pm |
| Thursday | 10:00 am - 8:00 pm |
| Friday | 10:00 am - 6:00 pm |
| Saturday | 9:30 am - 5:00 pm |
| Sunday | 11:00 am - 4:00 pm |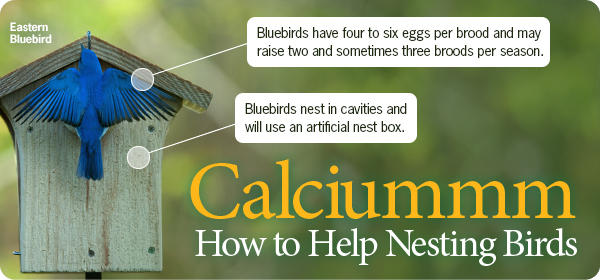 Being Seasonally Savvy: Give Nesting Birds a Hand
Calcium is the most challenging mineral for birds because when they need it, they need large quantities and they need it right away. This is mainly during this time of year as we move into nesting season. Many larger birds like Eagles, Owls, and Hawks have already begun nesting and even sitting on eggs, but the songbirds won't be far behind!
The amount of calcium in birds' natural diet of seeds and insects is often inadequate, and they must seek calcium-rich foods as a supplement. Ask us about the many bird foods we offer which include calcium to help your nesting birds
Our source of calcium is from oyster grit or limestone dust. Both are finely ground and easily consumed by small songbirds. Try foods like No-mess Plus and our Bark Butter products to keep your nesting birds strong!
---