Give Birds a Reliable Food Source
You have your favorite places to eat, whether it's a quick bite or a really nice meal. You trust and rely on them, never considering they might run out of food. Birds are similar. They constantly check their food sources. They may stay and eat a while or just grab a quick bite. But, they want to know they can rely on that food source when weather is good or bad or when times are abundant or lean.
Foundational Feeders: A Solid Foundation
In order to meet your birds' needs, it is important to have at least one foundational feeder that dependably provides food every day. Studies have demonstrated that a constant, and reliable source of supplemental food helps to improve the overall health and body condition of wild birds.
What is a foundational feeder?
Accommodates many birds at a time
Holds enough food for up to 4 days of feeding
Is easy to refill and see (for your viewing pleasure!)
Is filled with a food offering that attracts a variety of bird species, such as No-Mess Blend or No-Mess seed cylinders
Examples:
EcoClean Hopper Feeder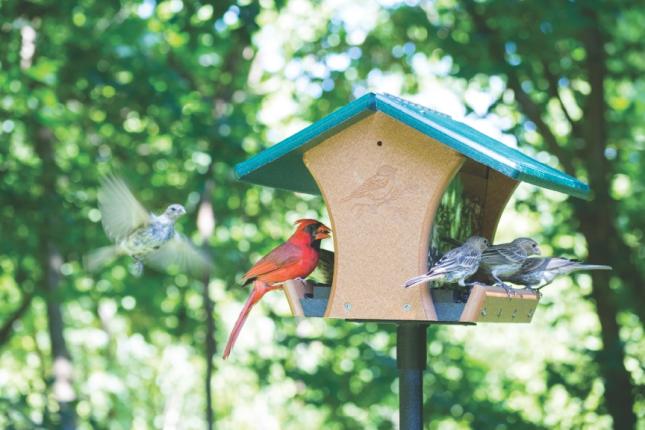 Cylinder Feeder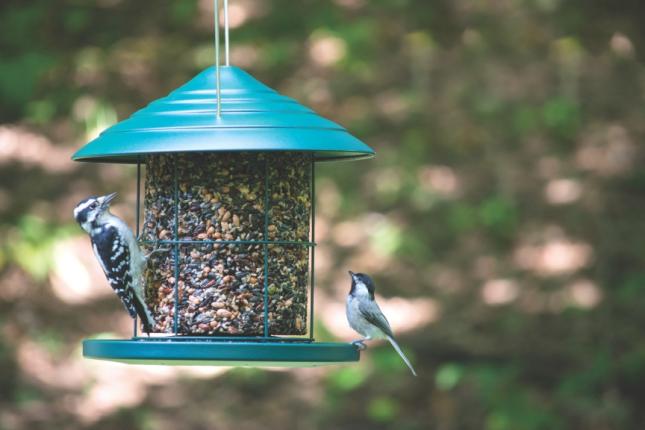 Tube Feeder
Having a foundational feeder in your yard that never goes empty is key to helping birds improve and maintain their overall health and helping you enjoy more birds. Visit our store to learn more about maintaining a foundational feeder in your backyard.
Have a moment to share your experience with us? Click here to access our customer testimonial form. We thank you in advance!
This time of year, we tend to see a spike in abandoned birds being found outside the nest.Click here for an informational chart on how to handle this type of situation. Following the chart is a link to a list of wildlife rehabbers who can provide assistance or instruction in many of these cases.
Upcoming Events
At Wild Birds Unlimited, Grosse Pointe Woods, we provide you with a place to shop for bird feed, accessories, and gifts (USA and Michigan-made whenever possible!). We love to be your backyard bird feeding experts and go-to problem solving team. In addition, we offer fun and educational customer experiences through events held in-store and within our community. Below is a list of upcoming events, hosted by us, and perfect for Bringing People and Nature Together. We hope to see you soon!
Hummingbird Presentation at

Pollinator Palooza

Join the fun at Pollinator Palooza at the Edsel & Eleanor Ford House, featuring a Gardening for Hummingbirds Presentation by Rosann Kovalcik.

Aside from Rosann's talk, this event will feature a live butterfly house, a peek into a bee hive, a live bat demonstration, and hands-on activities for all ages!

For tickets, click here to register through the Ford House website.

Fall Bird Walks at the Edsel &

Eleanor Ford House

Join us for our fall bird walks at the Ford House, where we'll witness the wonders of fall migration! Dates include:

Saturday, 8/26/17, 8:00am
Saturday, 9/23/17, 8:00am
Saturday, 10/28/17, 8:00am
Saturday, 11/18/17, 8:00am

Click here for more details.