Nectar...the Recipe for Perfectly Fun Feeding
(It's that time of year again!)
Hummingbirds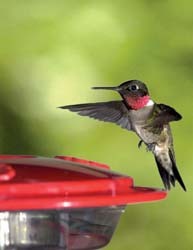 These tiny birds use so much energy flying that they can eat double their weight in nectar and insects each day. Despite popular belief, hummingbirds do not suck up nectar with their bills. They actually lap it up with their tongues. While dipping their grooved tongues into nectar sources at up to 12 times a second, the nectar is drawn up and into their mouth each and every time.
You can help them keep their energy level up and attract them to your yard by offering them a nectar solution. Mix four parts water and one part ordinary table sugar to create the perfect nectar solution. Example: (4 cups of water, 1 cup of sugar)
Change the nectar and wash your feeder in hot water every two to three days (more often in hot weather). If you have a WBU Hummingbird Feeder, simply place it in the top rack of your dishwasher for easy cleaning. If you plan to store nectar in the refrigerator, boil the water first before creating and storing your nectar solution. Never add red food coloring, honey or artificial sweeteners to the solution. These birds are quite bold, too, so place your feeder close to the house so you can catch all the action, or try our handheld Nectar Dot feeders!
Orioles
Orioles are known to enjoy orange slices, grape jelly and mealworms offered from tray-style feeders. They will even use the protein-rich mealworms to feed their nestlings. Nectar feeders are also attractive to orioles, supplementing the natural nectar they typically find in flowers. Be patient and keep the foods fresh, replacing them every few days and be sure to keep your feeders clean, too.
Have a moment to share your experience with us? Click here to access our customer testimonial form. We thank you in advance!
The Barred Owl Nest Cam is Back!
Hosted by Wild Birds Unlimited and Cornell Lab of Ornithology, this Barred Owl nest sits on Jim Carpenter's property (founder of the WBU franchise).
Upcoming Events
At Wild Birds Unlimited, Grosse Pointe Woods, we provide you with a place to shop for bird feed, accessories, and gifts (USA and Michigan-made whenever possible!). We love to be your backyard bird feeding experts and go-to problem solving team. In addition, we offer fun and educational customer experiences through events held in-store and within our community. Below is a list of upcoming events, hosted by us, and perfect for Bringing People and Nature Together. We hope to see you soon!
Avian Art classes, held in-store. Upcoming dates include:
̶F̶r̶i̶d̶a̶y̶,̶ ̶M̶a̶y̶ ̶5̶t̶h̶,̶ ̶6̶:̶0̶0̶ ̶-̶ ̶9̶:̶0̶0̶p̶m̶
Friday, May 26th, 6:00 - 9:00pm

Registration is required. Click here for details and registration information.
Elmwood Bird Walks, held at Detroit's Historic Elmwood Cemetery. Upcoming dates include:
Explore the grounds of Detroit's Historic Elmwood Cemetery on a guided bird walk led by Rosann Kovalcik, owner of WBU GPW. This is Detroit's first certified arboretum, and is home or stopover point for many bird species. Upcoming dates include:

Saturday, June 3rd, 8:00am

These walks are FREE and open to the public. Please RSVP by emailing Joannie Capuano at jcapuano@elmcem.org.

Walks generally last around 2 hours, but can vary depending on bird activity and group size. Wear weather-appropriate clothing, good hiking shoes (preferably waterproof), and a pair of binoculars, though we do have a few loaner pairs for those who need them.