Fun Facts About Woodpeckers
Considering the pounding it takes, why doesn't a woodpecker's bill wear down to a ragged nub? Wear down it does, but special cells on the end of the bill are constantly replacing the lost material. This keeps the chisel-pointed bill strong and resilient, while actually allowing it to be sharpened with every blow.
Woodpeckers use their stiff tail feathers for extra support when digging for insects or hollowing out a nest in a tree.
A woodpecker's pointed tail feathers are especially strong and rigid. The tail bone, lower vertebrae and the tail's supporting muscles are also large in comparison to other birds. These modifications allow a woodpecker's tail to serve as a prop that supports their weight as they climb and cling to trees.
Woodpeckers rarely climb down trees, their stiff tail feathers and relatively short legs are much better adapted for climbing upward instead of down.
The contrasting black and white pattern found on the backs of many woodpeckers helps to conceal them from predators. Known as disruptive coloration, this sharp contrast in colors helps to break-up and conceal the shape and outline of a woodpecker as it climbs the side of a tree.
The barbed tip of a woodpecker's tongue is very sensitive to touch and can both detect and impale insect larvae. The tongue is coated with sticky mucus that is secreted by large salivary glands; this coating helps to ensure that its prey does not slip away.
Most woodpeckers' tongues are two to three times longer than their bills.
The base of some woodpeckers' long, retractable tongues reach entirely around the back and top of the skull and end behind the right eye socket.
To prevent small bits of debris from entering their nostrils while excavating trees, woodpeckers have tufts of stiff feathers growing over both nostrils.
Woodpeckers have a third eyelid to help protect their eyes from debris while drilling into trees.
Woodpeckers have a thicker skin than most other birds, an adaptation that has probably evolved from their constant contact with the rough bark of trees.
Just as a kickstand keeps a bicycle from falling over, the woodpecker's tail keeps it from falling off the tree. The strong and stiff feathers absorb the force of the woodpecker's hammering blows and help to firmly anchor it to the tree. Closer observation will also reveal that each of these unique feathers is tipped with a pointed spike. Similar in shape and function to a telephone lineman's climbing spikes, the woodpecker digs them into the tree's bark as it climbs.
How Cool is That!

Family Activities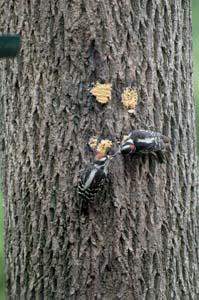 People who only feed the birds during the winter miss out on summer bird feeding fun and fascinating wild bird 'family life' activities. By mid-summer, woodpecker fledglings begin leaving the nest and are fed and taught to eat from feeders by their parents; a fascinating interaction to observe.
The health and growth rate of a fledgling is determined by the amount of nutritional foods it consumes. High-protein and high-calcium foods are especially important until a bird is full grown. Fledglings require a lot of protein to help them grow strong, properly-colored feathers and strong flight muscles.
Help your birds with high-protein foods like mealworms, peanuts, Jim's Birdacious® Bark Butter® and suet. These energy-packed foods will entice your birds and their young back to your yard. The young birds will learn the location of your bird food and begin to make return trips on their own.
You can recognize Downy and other woodpecker fledglings by their fresh and dapper plumage, whereas that of the adults is worn and dusky from their repeated trips in and out of the nest cavity.
After a few weeks, the parents stop feeding their fledglings and may even peck at them if they persist in begging for food to get them to feed themselves.
With lots of young woodpeckers around and the molting process in full swing, woodpeckers are seeking the extra calories and proteins that feeders can provide.
Visit us soon and we'll make sure you have the expert advice and quality hobby products you need to make friends with some of the cutest birds in the neighborhood.
How to Attract Woodpeckers