What's in your cup?
or - "How to Save the Wood Thrush"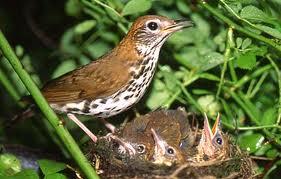 Wood Thrush – such a simple name for a bird whose song is so complex and held in regard as one of the most beautiful of the spring. Joni Mitchell, a beautiful singer of the human species, was once performing at Pine Knob Theater (yes, I date myself) when she stopped and asked the crowd to be quiet and listen. She was calling attention to a Wood Thrush whose voice was resounding into the theater, and made a comment that its' voice was far lovelier than hers.
Whenever I am privileged enough to hear this bird in Spring, I always pay homage, pausing to listen. At times, I will close my eyes to concentrate more clearly on the voice alone. The Wood Thrush is also a gorgeous bird from the standpoint of plumage, with its' heavily spotted breast and deep russet coloration of the upper parts of the body. Wood Thrushes return to us in May, in time to find a forest where they can claim territory with their song, attract a mate and set about the business of procreation.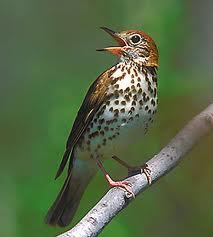 To listen to the songs of the Wood Thrush click here.
When I attended the Midwest Birding Symposium, I was fortunate to listen to Bridget Stutchbury, who has been compared to a modern day Rachel Carson. Stutchbury has launched into a scientific study of Wood Thrushes, monitoring them with a device that allows her to follow their migration. The locater sends data on the birds' location at sunup and sunset. She has solid evidence as to the path that these birds follow when migrating ,as well as where they spend the winter months.
This has been key in determining why the Wood Thrush population is in perilous decline. The winter habitat is being cleared at an alarming rate to support our habit of coffee consumption. Stutchbury ended her presentation at the MBS by clearly pointing out that if there is one thing we can do to make a difference in saving the Wood Thrush, it is to purchase coffee that is certified as bird friendly.
This is where Bill Wilson comes into play. Wilson has dedicated himself to the cause and sought the expert advice of Scott Weidensaul, a noted birder, author and conservationist, and Ken Kaufmann, another expert birder and author. Together with Stutchbury, they have researched the challenge and come up with a viable solution. Kaufmann spent time at a coffee plantation, Gaia Estate, in order to inventory the bird life there. He found that the canopy was filled with species of birds that do not migrate from that area, as well as with species that come to North America to breed.
To read more about Kaufmann's findings, click here.
The key is to keep coffee growing in the way that it has been grown traditionally until about forty years ago. Coffee was planted in the shade of the forest and hand harvested, with no ill effects upon bird populations. In an attempt to satiate the demand for more coffee, changes were made in coffee production practices with clear-cutting of forests and the addition of pesticides and fertilizers becoming the norm. There are some companies that label their coffee as shade grown, when in fact, a high percentage of the canopy is cleared and the bird life is compromised.
Wilson sought a higher level of certification, and the Smithsonian certification of "Bird friendly" has become the gold standard for preservation of winter habitat and the bird species that depend on that habitat for their very survival. Wilson's coffee, Birds & Beans, is not only the best choice for birds, it is fabulous coffee. My personal favorite is Chestnut-sided Warbler, a medium roast that is smooth and full-bodied. There are light and dark roasts and a decaf coffee all available in the Birds & Beans line. We offer it at Wild Birds Unlimited and have a sample carafe available for you when you visit. If we love the birds we look at and listen to, we need to sell Bird & Beans alongside our field guides and binoculars.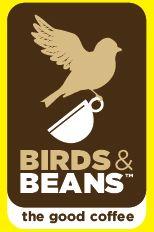 It has been more difficult to come across singing Wood Thrushes each Spring in the years I have been birding. The same is true of many other bird species, as Stutchbury's work proves. Make the choice to help these birds, make the choice of Birds & Beans coffee as your standard, so that "Silent Spring" does not become reality.
Enjoy your birds!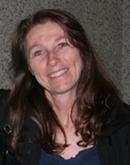 Rosann Kovalcik, Owner
Wild Birds Unlimited of Grosse Pointe Woods