Grosse Pointe Woods, Michigan
Rosann Kovalcik, Owner
We're passionate about birds and nature. That's why we opened a Wild Birds Unlimited Nature Shop in our community.
Grosse Pointe Woods, Michigan
20381 Mack Avenue
Grosse Pointe Woods, MI 48236
Phone: (313) 881-1410
Fax: (313) 881-2008
Email: Send Message
Store Hours:
Mon - Fri: 10:00 am - 6:00 pm
Thurs: 10:00 am - 8:00 pm
Sat: 9:30 am - 5:00 pm
Sun: 11:00 am - 4:00 pm

Additional Website:
Visit our other website
Comments:
Free parking available at rear of store.
June Nature Happenings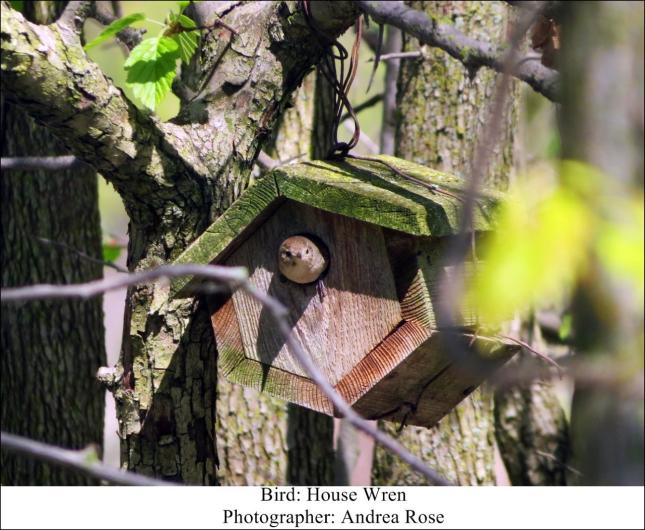 House Wrens are nesting! These are cavity nesters, who nest in holes made by birds like woodpeckers, or in bird houses like the one above. We sell houses with entrance holes large enough for chickadees and wrens, but small enough to keep out larger birds and predators.
June is Perennial Garden Month & National Rivers Month. Did you know, we are selling Grosse Pointe Garden Tour tickets? Click here for more information about the tour, and stop in for tickets to the best garden tour around!
Hummingbirds are nesting; they may become scarce at your feeders until July. See our homepage for tips on your best chances of attracting them to your feeders. The below video clip was sent to us by customer, Melissa Puppos, who captured a female Ruby-throated Hummingbird collecting nesting material from her yard (for best viewing, switch to full screen using the square-shaped icon at the bottom right of the video). How cool is that!